Blockchain Development
Over the last few years, Bitcoin's underlying technology – Blockchain has taken center stage, dethroning the traditional centralized system of storing, viewing and accessing data, paving the way to a decentralized system, where the data is considered immutable. Not restricted merely to the cryptocurrency realm, blockchain technology holds the potential to bring about a revolution in diverse industries, right from banking to education to healthcare, and in any organization where there's an exchange of data or transactions. Since the data is stored in a transparent and foolproof decentralized space, it allows zero room for security lapses.
While achieving complete transparency and ensuring impregnable data security might seem impossible, Blockchain technology makes it a reality. At Openwave, we've studied this revolutionary new technology in detail and have a massive team of trained experts who can deploy customized blockchain development solutions that can bring about a positive transformation across any business vertical.
Are you looking to stay a step ahead of the competition and gain the edge using blockchain technology? Want to develop a dedicated cryptocurrency wallet? With Openwave, you can explore the unlimited possibilities in the world of blockchain development. With a strong focus on infusing innovation into everything we do, our profound technical expertise can be tapped into to realize future-ready business solutions.
We create private blockchains, smart contracts, Dapps for web and mobile and can also work with Hyperledger Fabric. No matter what you need, you name it; we do it! Reach out to us now at +60 169 185 667.
What We Do?

Cryptocurrency Wallet
With cryptocurrencies such as Bitcoin, Ethereum, among others, enjoying increased patronage across the world, you can capitalize on its popularity through an integration of a dedicated wallet for cryptocurrencies that can help users store, receive and send crypto-coins, thus attracting a new user base and stimulating business growth.

Smart Contracts Development
Replace the conventional contracts with smart contracts that can fully execute and enforce by themselves, thus saving you significant costs, time and ensuring ultimate security. Our solutions are crafted using Solidity, an Ethereum-based technology stack, and Hyperledger Fabric, which is largely used for custom blockchain development.

Blockchain Application Development
Revamping your business model by paving the way to a smarter, newer and decentralized system is now made possible. Our hands-on expertise in devising smart contracts, decentralized apps (Dapps), and wallets, enables us to build comprehensive solutions across web and mobile that can elevate your business to new heights of success.

Custom Blockchain Development
Unleash the power of Blockchain in your organization with our custom solutions that can enable you to store, retrieve, modify and access data on an immutable and highly transparent space. Trust our experts to translate your idea into a viable Proof of Concept (POC) and devise a custom solution that is in sync with your vision and objectives.

Hyperledger
Enabling secure interaction across industries, we leverage Hyperledger composer to build solutions that establish accountability, reliability, and transparency, while also enforcing predefined constraints and business processes. Our solutions can be effectively used for collaboration between cross-industry blockchains from domains such as Healthcare, Finance, Supply Chain, and more.
Blockchain Use Cases

In Banking and Finance
Security, reduced fraud, and transparency is the need in every banking and financial institution – a need that can aptly be filled with blockchain's decentralized system which can achieve the desired level of security while eliminating infrastructure costs and also speeding up transactions.

In Education and Academics
An increased co-operation between multiple education institutions translates into a need for shared repositories that hold the requisite data on certifications, achievements, and awards. Forming a blockchain between groups of institutions enables effortless sharing of resources and information.

In Real Estate
Rental scams, forged documents, false listings and other real estate fraud is rendered impossible when the ownership of a property is linked directly via a blockchain. With a cohesive system that keeps a track of the associated data, any database changes and manipulation in records is eliminated from the equation.

In Health Care
When a patient moves from one hospital to another for treatment, the new entity is completely in the dark on the patient's history and therefore resorts to running tests from scratch. With a cross-institution blockchain, a patient's medical records can be retrieved by any institute to gain an insight into the history, and make better diagnostic choices.

In Government And Public Services
Manually storing, retrieving and processing records can leave gaping holes for inefficiencies and fraud. By placing the data on a blockchain, a tamper-proof, efficient and streamlined system is established to store, view, and access records and other important information.

Retail and Manufacturing
In the manufacturing and retail realm, especially where the lack of legitimacy of the supply chain is prevalent, blockchain can make it possible to track a product's origin and distribution, which can establish increased trust and ensure the authenticity of supplies procured.
Our Product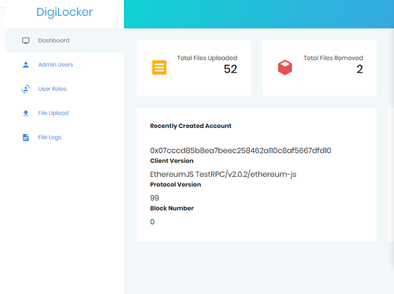 DigiLocker
---
A decentralized digital locker can be built in a server-less fashion (as a Dapp) by leveraging Ethereum's blockchain technology. It allows users to upload and store personal documents that are encrypted and stored in a decentralized manner.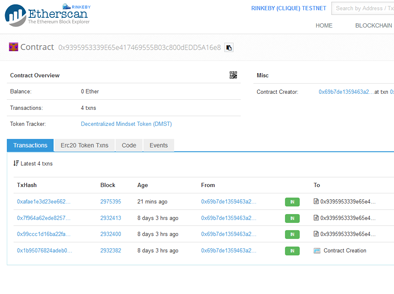 Decentralized Mindset Token
---
DMST Token implements the Proof-of-Stake mechanism, meaning that holders of DMSToken can earn some extra tokens just by holding DMSToken for a period of at least 7 days, greater than or equal to The Minimum Coin Age.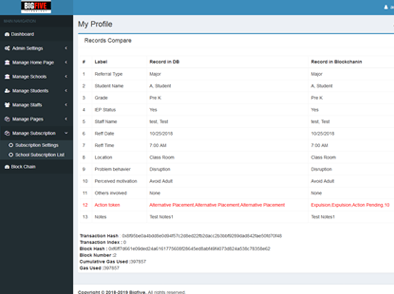 Big Five Discipline
---
Big Five Discipline is a web-based system and mobile app which will directly allow school districts to input, measure, and track office discipline referrals and rates of disproportionality. The referral data is secured and protected through the Blockchain network.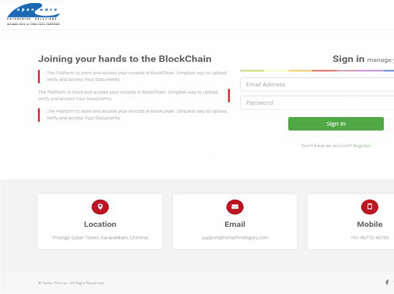 Blockchain Record Storage
---
Blockchain technology is the future – and this platform makes blockchain adoption in your organization quite simple. Upload, store, view, and verify your records and other documents using this versatile blockchain solution, and bring in increased transparency, information security and minimize chances of fraud.
Are You Ready To Explore The Potential Of This Disruptive Technology?
Get In Touch With Us Now And Open Up A World Of Opportunity!
Get a Free Quote!
You May Be Interested In