Innovative Solutions for Challenging Problems
In today's swiftly evolving marketplace, manufacturers face numerous challenges that require them to adopt adaptive business strategies and models. These challenges include complexity and scale, changing customer demands, and the need to deliver personalized and customized products and services.
To address these challenges, Openwave offers a comprehensive smart factory solution that connects various business threads and provides the necessary insight, agility, and control to dynamically evolve production processes and meet market demands.
How Openwave's Solutions Transform Smart Manufacturing
Smart factories capitalize on the latest technologies to enable real-time visualization, monitoring, and control of production, track and trace processes and product genealogy, anticipate unplanned events, and take knowledgeable and documented decisions. The ability to anticipate machine breakdowns and address problems before they arise is critical to enhancing operational safety.
Openwave Computing smart factory solutions leverage various digital technologies such as Industrial IoT, Artificial Intelligence, Machine Learning, and Robotics to enable advanced capabilities.
Industrial IoT
Artificial Intelligence
Factory Automation
Cloud Computing
Robotics
Why Openwave for Smart Factory Solutions?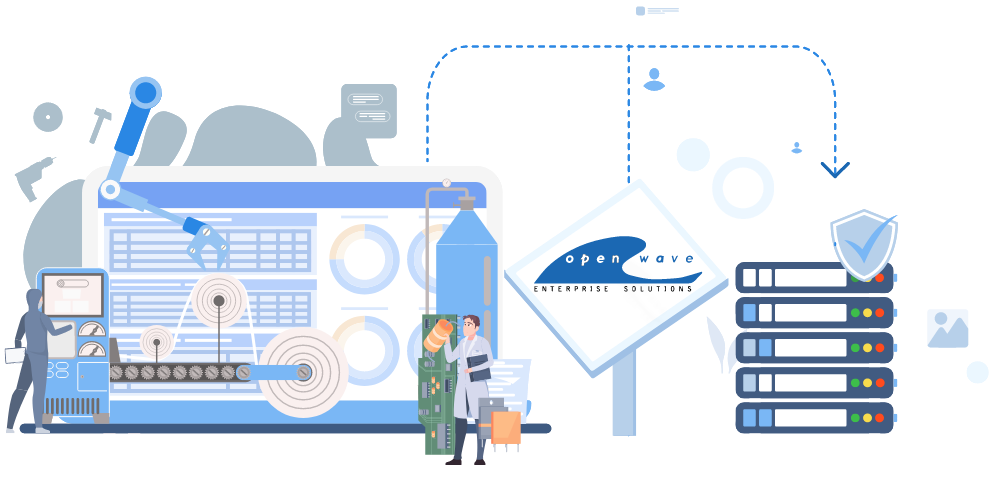 Transforms your equipment to be Industry 4.0 ready!

Real-Time Monitoring & Analysis

Process Simplification (Lean)

Increased Efficiency & Productivity

Proven Track record

SECS/GEM Compliant Solutions
Recipe Management System (RMS)
OEE Calculations
MTBA & MTBF Calculation
RCM
Vision
Auto Purge


System that can allow host to control the machine.

Configurable connection from machine to your host/server.

Real-time overview of production processes, including machine downtime and its reasons.

Track alarm START/STOP status, captures critical alarm from legacy machines and controls Start/Stop machine to avoid errors.

Data analytics and customized dashboards and reports to aid decision making for management.

Data-driven analysis reveals true bottlenecks and ensures qualified replacements.