Smart Factory Solutions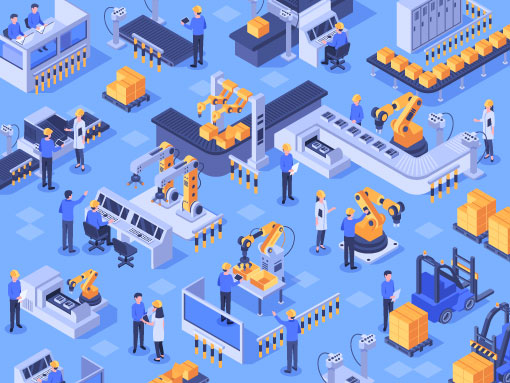 The amalgamation of the latest technologies such as Artificial Intelligence, Industrial Internet of Things (IIoT), Big Data, and Cloud Computing has resulted in what we know as the Fourth Industrial Revolution – Industry 4.0! "Smart Factory" or "Smart Manufacturing" is when these technologies come together to drive the manufacturing processes!
Breaking away from the limitations of the traditional manufacturing model, Industry 4.0 encourages business agility, cuts production costs, improves product quality, and enhances manufacturing efficiency! It enables a decentralized medium for quick and seamless communication between equipment, sensors, materials, and control systems.
Openwave puts together the robust solutions to make your equipment Industry 4.0 – ready!
Old standalone machines are often expensive and can't be discarded just like that. Instead, their technological setback can be compensated by integrating them with intelligent solutions. Our desktop/client-server application offers the needed intelligence and control to the old manufacturing equipment and ensures they work efficiently. Following the SECS/GEM compliance, Openwave delivers industry-centric products and automation solutions to enable smart manufacturing.
With customer satisfaction being our priority, we give no room for customer complaints and chargebacks! We ensure product quality is top-notch! Our products enable faster time-to-market, reduce total cost of ownership, and optimize productivity!
Empower your standalone machinery and accelerate productions intelligently with our robust Industry 4.0 solution! Join hands with Openwave!
Get a Demo