Transform Your Field Service Operations with QuikAllot
QuikAllot is an excellent field service management software and an end-to-end operations management tool that acts as a single source of truth to streamline your business processes. From customer complaints, to estimating, to scheduling and dispatching, to invoicing, to project management and business reporting, QuikAllot will suit to adapt and grow your unique business needs.
Why QuikAllot?
QuikAllot's flexible and highly customizable solutions can be tailored to meet your specific business needs.
QuikAllot helps your FSM enterprises improve productivity, increase your revenue and boost customer satisfaction all in a single go.
QuikAllot has two in-built functionalities a web app for administration and a mobile app for field service technicians.
We do offer a Free Trial with No Upfront payment.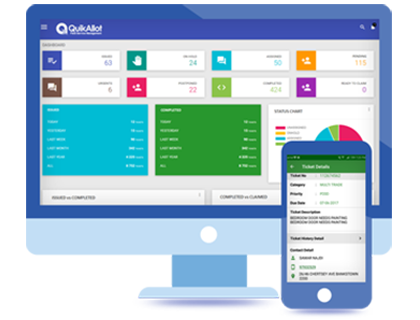 Features
Top-notch features that will transform your field service operations.

Schedule and Dispatch
Dispatch workers quickly by dragging and dropping jobs based on the technician's availability, skills and location.

GPS Tracking
This feature helps you to trace the exact location of your field technician.

Job Management
Immensely benefit from the advanced job management and advanced search options that will let you find the jobs quickly and effectively.

Customer Portal
Provide customers with a secure private portal to create jobs, consult existing jobs, and download PDF job reports at any time.

Inventory Management
Inventory management feature is designed to track parts & materials used for small and large projects.

Job Costing
Keep track of individual job costs, labour, materials and other expenses in real-time.

Invoicing
Send invoices instantly ensuring prompt payment and maintain positive cash flow.

Mobile Apps
Stay connected with your field service technicians via our mobile apps available for iOS and Android.

Timesheets
Go paperless! Gain access to timesheets data and know employees log time and time spent on jobs precisely.

Integration
QuikAllot integrates operations management with QuickBooks, CRM, and many other customer applications to simplify your business processes.
Serving Your Every Need, and For Every Industry?
QuikAllot's flexible and highly customizable solutions have been used across different FSM industries in developing various applications including repair & maintenance, installation, lead management, asset tracking and data collection.

HVAC

Building and Construction

Electrical

Plumbing

Security - CCTV and Access Control

Fire Alarm/Protection

Hardware and Networking

Facilities Maintenance

Equipment Maintenance

Telecommunication

Oil & Gas

Solar

Cleaning

Laundry

General Maintenance

Carpenter

Painting

Pest Control

Delivery Service

Locksmiths