EduDiary App
EduDiary revolutionizes the school diary into a refreshing and interactive version.
The communication between the school management and parents of the students is vital. Paper diaries, SMS, emails, websites, and other media are not very effective channels in today's digital world. EduDiary, a mobile app specially designed for schools, enhances parent-teacher engagement and offers a more transparent system in order to ensure that the students remain guided at all times.
With EduDiary, enable sharing of daily homework and allow teachers to streamline their daily tasks, and provide timetables, notifications of upcoming events, holiday announcements, seek parental opinions and more!
Print and bulk SMS costs are daunting especially when there are other solutions which can offer better services at rather affordable rates and enable timely sharing of information! Moreover, you get to go paperless, which makes our solution eco-friendly! The engaging format of the EduDiary makes it not just lucrative, but also desirable! Strive towards holistic development of students with the involvement of parents in their ward's academic pursuit!
Available Views
Parent's Portal
The parents are authorized to login into the app. After logging in, a dashboard appears right away and it contains basic student information, timetable, and daily assignment updates. Besides, notifications about school trips, holidays, and other events will also be shown.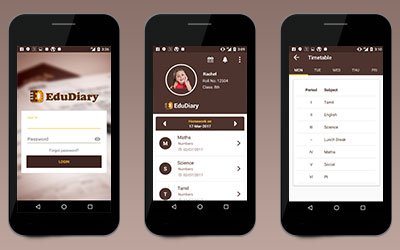 Teacher's Portal
The teachers can login and view their daily timetable. Staff announcements and alerts from the management can be seen on the dashboard. With our single-tape feature, teachers can easily assign homework to an entire class at one go! Of course, they may also assign it individually if they wish to.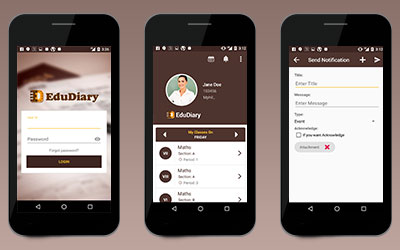 Key Features
Swift, light, and intuitive
Seamless integration of communication channels
Configurable 1-way and 2-way communication
Real-time home work updates
Academic calendar
Full view of time table
Broadcast messages to staff/class groups
Push notification alerts
Hassle-free and easy deployment
Ease-of-use and simplicity
Let go of the redundant procedures and step up with a modern EduDiary app for better performance! Sign up with us and bring the change your school deserves!
Book a Demo