WaveCart – Extend Your Magento 2 Site to the Mobile Space!
WaveCart is a Shopping Cart Mobile App developed with React Native, for Magento 2 system. By providing a seamless navigational experience, it helps users maneuver around the platform and shop effortlessly. Order placement and payment happens efficiently through a few simple clicks, providing users with the ultimate shopping experience.
Openwave Computing customizes WaveCart completely depending on your requirements, and aims to thoroughly enhance your e-commerce venture.
Features
Here are some of the important characteristics of WaveCart:
Sign-up and Checkout processes are instant:

Registering, navigating through the site, selecting products and paying happens efficiently.

Numerous shipping and payment methods are supported:

Paying for products can be done through a number of ways and their reception can be customized.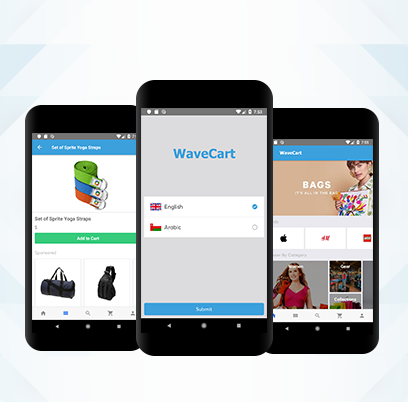 Our Solutions
All your e-commerce needs will become digital.
React Native
WaveCart has been developed on the open-source JavaScript framework React Native, and can be deployed across multiple operating systems with ease!
E-commerce
Integrating your Magento 2 website to the mobile app will take no longer than minutes!
Easy Social Sharing
Authentication can be done via Facebook or e-mail addresses.
Redux
The Redux library allows you to manage your mobile app incredibly well.
Site Integration
The Magento 2 site integration happens through API keys.
Why WaveCart?
WaveCart provides top-notch quality for client and user both.
Magento 2 only has a handful of apps built on React Native, making WaveCart unique.
Code reduction and reusability along with cross-platform development offered on this React Native app will enable you to save in thousands.
WaveCart is completely affordable, allowing you to cut down several costs.
How to Use WaveCart?
Inside the Config.js file, set up your configurations. It shouldn't take longer than 5 minutes!
Change the name, logo and, colors as you like.
Integrate the app with your Magento 2 site through the API keys.
Deploy the app on both iOS and Android.