QuikAllot
It is a field service management software designed to make FSM processes swift, comfortable and more efficient. It comes with a mobile app for field-side workers to utilize, and a cutting-edge web application for the office executives. Everything from scheduling tasks to billing the customers happens in a seamless manner.
Why QuikAllot?
All tasks assigned can be tracked in real-time.
You can say goodbye to paperwork, because QuikAllot comes with online and offline data storage provision.
Assigning tasks to field executives will take no longer than a few seconds, with QuikAllot job delegating will be swift and smooth.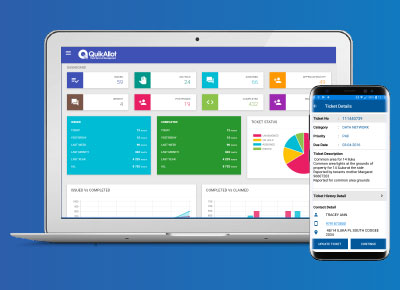 Features
QuikAllot provides both office and field-side users with an incredible set of features:
Project Management
Seamlessly manage multiple projects with ease.
Field mobility
Field-side executives can utilize the real-time task tracking facilities to make sure there are no navigational hassles.
Scheduling
Assign tasks to your field executives within seconds.
Geo-stamping
With geo-location services, monitoring tasks, executive locations and job locations will be very easy.
Outlook integration
QuikAllot loads in job requests from customer emails automatically via Outlook integration.
Timesheets
Monitor the time taken for a task from commencement to the end through timesheets.
Who Can Use QuikAllot?
Field service management is a vast and lucrative domain with many new ventures emerging every day. QuikAllot has been designed to cater to all their needs. From HVAC to plumbing, and maintenance to delivery services - QuikAllot provides solutions for any and all ventures in need of a software to manage jobs and executives while bringing a smile on the customer's face. QuikAllot is your all-in-one tool for all things FSM!
This lightning-fast FSM tool is what your venture needs to race ahead of the competition and deliver top-notch field solutions! Book a free demo today and see the beauty for yourself!